ARCHITECTURE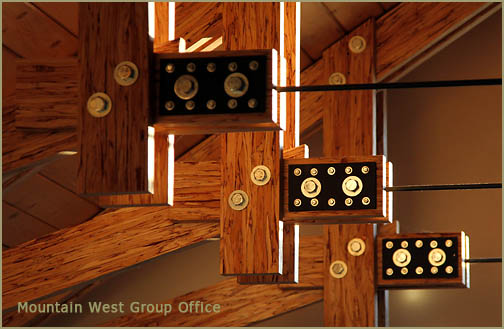 Design is the art of taking your ideas and dreams and making them a built reality. We help you balance your building needs and available resources to create a functioning work of beauty.
Mountain West Group specializes in residential and commercial architecture and we enjoy the creative process of design and building. Our experience covers small to large projects for private and public clients and developers including single and multi-family residential, resort, commercial, additions, and remodel work. We are currently licensed in Wyoming, Colorado, and Utah.
Use the links above to learn more about Mountain West Group and our previous work or simply watch the photos scroll by to the right. We have highlighted our design philosophy, the design process, and how we work with our clients in two residential projects located in
Knode Ranch
and at the
Powder Horn
.
Our design process and philosophy is applicable to any kind of design project including additions and remodels. There may come a time when you need to make changes to your home or building. We have the experience to help you visualize your alternatives and find the one that meets your needs and budget. Remodel projects are a smart way to upgrade your existing home or building and add value without the expense of building new.
Professional design services are affordable and a good investment because they add value to your home or building. By prioritizing the design process and receiving a quality set of construction plans from Mountain West Group, you will remove the guess work for yourself and your builder which reduces time and money spent during the building process. The contractors and suppliers you work with will be more able to provide accurate estimates for time and materials needed to complete your project, reducing construction expenses and contractor mistakes which lead to cost overuns. What you spend on professional design services, you will save in construction costs.
Due to our firm's small size, you'll receive prompt service directly from the people working on your project. The same people you talk to, meet, and work with are the professionals drawing your plans, resolving the spatial issues, and directly managing your project. We are responsive and available to our clients and available on evenings and weekends to match your busy schedule. Please call or e-mail Mountain West Group to discuss how we can help you with your design project.